Electrical Solutions That Work Everywhere
Professional NW Georgia electrical services for home offices
Comprehensive Electrical Solutions for Home Office
Our certified electricians are trained to make your home ready for your work and the kids' schooling needs kids in these changed circumstances. They have the expertise to manage any repair and maintenance work that might come up unexpectedly.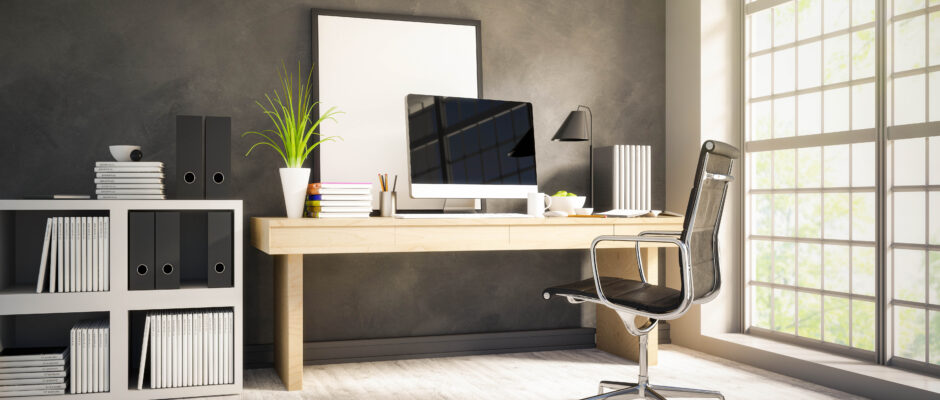 Cope with the New Norm with Phoenix Electrical
Many families have parents working from home and children taking online classes as a part of COVID-19 protocols. Families have to plug in more devices than during normal times. This can put a load on the existing electrical system. Your home may need new outlets to cope with the enhanced load. If your existing electrical system is not designed to handle the additional load, it may create frequent tripping, resulting in potential damage to your valuable devices and equipment.
Phoenix Electrical can help you manage the excess load problem easily by installing USB charging ports in the walls. It is a simple way to charge devices without having to search for a vacant charging point. While we are at it, we can also check and update all the existing outlets and electrical panel and ensure their working properly.
When you are working from home, you must have access to a device that runs smoothly supported by electrical systems that do not buckle under overload. It could not only affect the quality your work but also create unprofessional impression. Work computers are different from home PCs because they are designed for commercial needs. If you need a dedicated computer circuit to operate your office PC, call our electrical experts now.
Need Dedicated Computer Circuits? We Can Help
Get Control Over Your Lighting System With Dimmers
While working from home, your residential lighting system may not be able to match your work-related needs. You need a lighting system that can help you work from home comfortably. Dimmers and controls can help you achieve desired outputs. When used the right way, lighting dimmers and controls help adjust to your visual needs for specific tasks. They can also help reduce energy bills and boost sustainability.
Phoenix Electrical can help you choose and install the dimmers and controls needed to produce the perfect amount of light. We can also make sure you get the right lighting where you need it without having to make any major changes to your existing setup. Call us now to tailor your lighting output to your work-from-home needs. We can make the lighting just right for you.
Daylight is not always the same. Morning light is pleasant and puts you in a positive frame of mind. The harsh noon light can make you uncomfortable. Strike a balance by controlling the flow of light from your windows. Our electricians can make it happen effortlessly with smart blinds and shades. You can create the right ambiance in seconds. Shades and blinds can be tweaked for work, privacy, or relaxation. Call us to set it up now.
Shades and Blinds for Creative Lighting
Protect Your Home from Surges
Any home can experience a sudden spike in voltage, leading to overloads on crucial electrical components. This can result in major damage to equipment, property, and life as well. Surges, also known as transient overvoltage, are generally caused by lighting, and the spike could be thousands of volts. Although most buildings are designed to withstand the strike of voltage, the surge that comes later can result in immense damage. We provide an effective way to deal with such surges.
Phoenix Electrical offers surge protection devices designed to protect your valuable devices from voltage spike-related damages. The surge protection device (SPD) reduces the voltage to your electrical devices by blocking the excess and maintaining a safe standard.
Call us now to know more about surge protectors and get them installed in your home office.
When power outages happen, standby generators come to your rescue by ensuring a steady and uninterrupted supply. When you invest in a generator, you must make sure you get the best value for your investment. Phoenix Electrical offers expert guidance and the right advice to help you choose the best standby generator for your needs. We furnish and install a whole range of leading-brand generators. Call us now if you are looking for a standby generator.
Standby Generators—A Reliable Power Source
Enjoy an Uninterrupted Power Supply Even in Critical Times
Working from home? You must make sure there is a backup plan when power trips or there is an outage. The answer to your problem is an uninterrupted power supply (UPS) for your PC. With a UPS you need not worry about your system shutting down abruptly during outages. It is a backup battery that keeps the power supply to your computer going for some time. It helps you save crucial documents and shut down programs properly to prevent any damage to the software or other components. Call Phoenix Electrical if you are planning a UPS backup for your PC. We will take care of the rest.
This is the internet generation, and you are unlikely to find a place that the web has not permeated. Speed is also a key component of web services. When you are looking for a reliable and faster connection, a hardwired Ethernet is your answer. Create a home network, and connect with anyone using an Ethernet data cable. Simply install it in your home in different areas, and enjoy the smoothest and fastest telecommunicating experience. Call us to discover the power of a hardwired Ethernet and data cables. Our electrical experts can set up everything for you.
Overloads can result in a fire or damage your valuable devices and equipment. There is no telling when your electrical system will bust under an electrical surge. The only way to negate its effects is to use circuit breakers, but they are not entirely foolproof. Make sure you have a reliable and experienced local electrical service on your speed dial—Phoenix Electrical. We respond to your calls promptly and resolve issues fast. Trust us to deliver. We never fail.
You may be working from home for some time until the situation improves. Are you prepared? Your home office may fall short in several areas. Although it is impossible to make it as good as your office, you can certainly do some things like upgrading the electrical system, circuits, power outlets, and data cables. Are you ready to upgrade? Call Phoenix Electrical and get a free estimate. Call us at (706) 607-6332 now.
Make Your Home Office a Better Place
Phoenix Electrical is a fully licensed, woman-owned, local, and reliable, NW Georgia electrical contractor. We serve the Calhoun, GA, and surrounding areas. We are the preferred residential and commercial electrical service of all homes and offices in Gordon, Bartow, Cobb and Whitfield Counties in the NW Georgia area.
Phoenix Electrical offers the whole range of electrical services with a team of skilled, committed, and experienced electricians. We are unswerving in our adherence to safety standards and make sure to serve our clients in the quickest possible time.
When we were having our 3400 sq ft home built. Phoenix Electrical did all the wiring and hung lights and fixtures. They did a fantastic job and even the inspector was impressed , when it was inspected. I will definitely obtain their services when needed.
Phoenix Electrical installed an outdoor ceiling fan for me. Had to run new electrical. Did a superb job. Fan looks and works great. Was so thoughtful to my ideas and the electrician gave his input. He cleaned up after also. I enjoy my fan daily.
Excellent work! We had most of our home completely rewired. Jerimiah was fast, clean and very detail oriented. Highly recommend using them.
Great service! Phoenix Electrical was very responsive to my inquiries. They were on time and did a great job installing 2 outdoor ceiling fans for me. I will contact them again if I need any electrical work in the future.
I was very pleased with the service that I received. The Phoenix Electrician was very knowledgeable about the job. Cleaned up after the job was completed. Would definitely recommend them to others.
We found this company on NextDoor and are glad we did. They took down six old 8-foot fluorescent shop lights (from a 12-foot ceiling) and replaced them with LED shop lights. They completed the job in a few hours and took all the debris with them. They were prompt, professional and well mannered. I highly recommend Phoenix Electrical for big or small jobs and will use them for any of our future electrical work. Thanks Cynthia and Jeremiah!!