Meet the Electrical Panel Experts
Electrical Panel Replacements in Calhoun
We Make Sure Your Electrical System Functions at Peak Efficiency
INSTALLATION, REPLACEMENT, AND REPAIR AND MAINTENANCE OF ELECTRICAL PANELS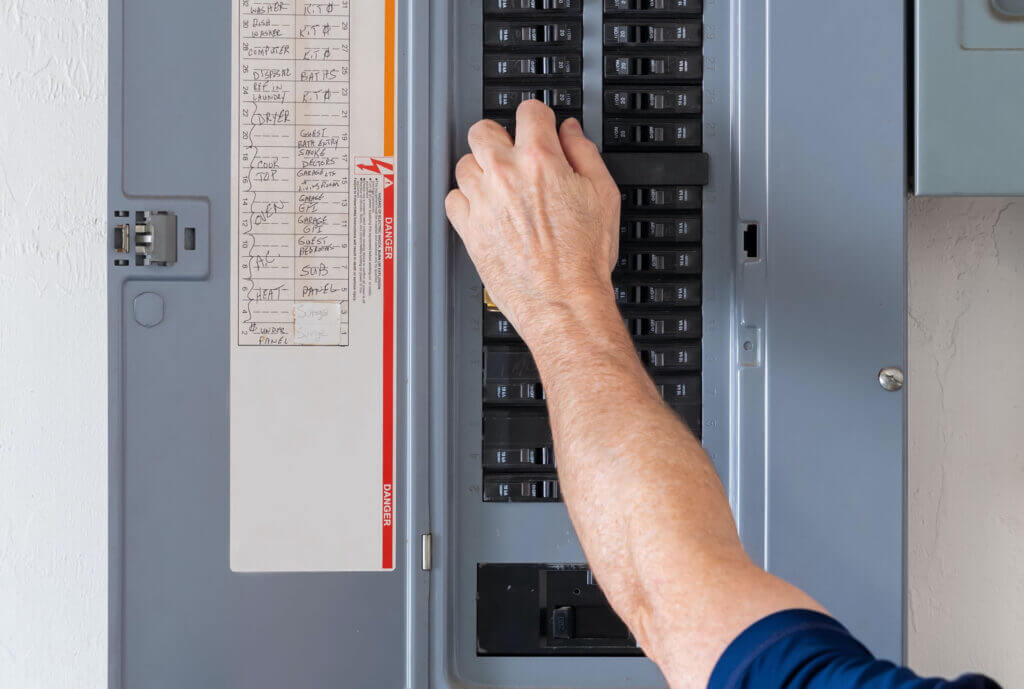 The Best Electrical Panel Replacement Experts in Calhoun, GA
Your electrical panel might appear to be an obscure metal box, but it is one of the most critical elements of your home. It holds the all-important electrical panel, which is the core of your home's electrical circuitry. They also serve as safety systems by automatically shutting down the system during short circuits or overloads. It can ensure the safety of your costly equipment.
As one of the most experienced and reliable electrical services in Calhoun, specializing in electrical panel solutions, we can make sure that you enjoy a smooth and uninterrupted power supply in your home and office. Our team of qualified electricians is licensed to provide services for residential and commercial setups. Call us now to see how we can make your home or office a safer place with our services. We carry out installation of new panels. We also upgrade and repair existing systems. Call us now to discuss your electric panel replacement. 
Looking to install a brand-new electric panel? Having trouble finding an expert electrician specializing in panel installations? You have found one now. We have one of the most experienced team of electricians with unmatched expertise in electrical panel installations. We are second to none in Calhoun when it comes to providing prompt, efficient, and professional panel installation services. We make sure your electrical panel is installed and running smoothly in the quickest possible time. We serve both residential and commercial electrical panel installation needs. 
Get a New Electrical Panel Installed Now
The Best Electrical Panel Installers in Northwest Georgia
If you have a faulty electrical panel that trips frequently because of improper installation, we can spare you the hassle of having to reset it. Not all electricians know how to installing panel the right way. We have an enviable track record of installing electrical panels across Northwest Georgia for our residential and commercial clients. Call us now to get your electrical panel installed so you can count on problem free service for years to come. 
If you suspect a problem with your electrical wiring or feel something is not right with your electrical panel, act fast. Ignoring signs of electrical fires and sparks can be disastrous and may result in a major mishap. At Phoenix Electrical, we deal with such risks swiftly and make sure that the homes and businesses in Calhoun are safe at all times. Call us now if you detect signs of trouble in your electrical system. 
Electrical Panel Repair and Replacement Services, Calhoun
Want a Fuse Box Upgrade? Need a Circuit Breaker Replaced? We Are Available
We have our trained and licensed electricians ready to serve you in Calhoun and all across Northwest Georgia. We repair, upgrade, and install everything electrical in your home and office, and we do it professionally. If you are in Northwest Georgia and want service from the best local electrician, schedule an appointment now. We are just a call away.
Panel Replacements
Panel Upgrades
Circuit Breaker Installations
Breaker Box Replacements
Service Upgrades
Electrical Wiring
Code Updates
New Installations
Torque and Clean
Panel Inspections
Electrical Safety Inspections
Surge Protection
Residential Electrical Services in Northwest Georgia:
To upgrade your electric panel, call Phoenix Electrical at (706) 607-6332 to schedule a free onsite estimate or schedule online for a time that is convenient for you. 
When we were having our 3400 sq ft home built. Phoenix Electrical did all the wiring and hung lights and fixtures. They did a fantastic job and even the inspector was impressed , when it was inspected. I will definitely obtain their services when needed.
Phoenix Electrical installed an outdoor ceiling fan for me. Had to run new electrical. Did a superb job. Fan looks and works great. Was so thoughtful to my ideas and the electrician gave his input. He cleaned up after also. I enjoy my fan daily.
Excellent work! We had most of our home completely rewired. Jerimiah was fast, clean and very detail oriented. Highly recommend using them.
Great service! Phoenix Electrical was very responsive to my inquiries. They were on time and did a great job installing 2 outdoor ceiling fans for me. I will contact them again if I need any electrical work in the future.
I was very pleased with the service that I received. The Phoenix Electrician was very knowledgeable about the job. Cleaned up after the job was completed. Would definitely recommend them to others.
We found this company on NextDoor and are glad we did. They took down six old 8-foot fluorescent shop lights (from a 12-foot ceiling) and replaced them with LED shop lights. They completed the job in a few hours and took all the debris with them. They were prompt, professional and well mannered. I highly recommend Phoenix Electrical for big or small jobs and will use them for any of our future electrical work. Thanks Cynthia and Jeremiah!!