We Install New Fans and Replacements in NW Georgia
Creating a Comfortable Breeze Around You
Ceiling Fan Replacement Services in
CALHOUN, GA, and NORTHWEST GEORGIA
Looking for a reliable ceiling fan installation service in NW Georgia? You can count on us to do a fine job. We are a trusted name in fan installation.
We have a team of installation professionals well-versed with the technicalities of installing a fan the right way for maximum output and comfort. When you choose Phoenix, you can be sure that you are using the services of the best fan installing professionals in NW Georgia.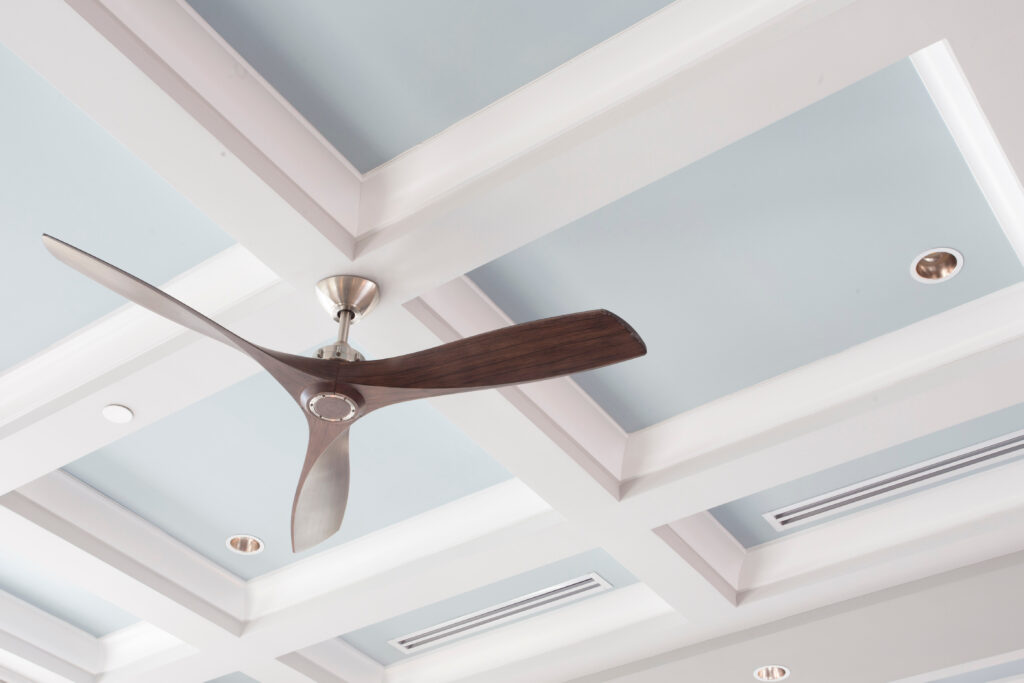 We Make Fan Installations an Easy and Quick Task
If you have been planning to add a new fan to your home, this is the best time to get it done. Simply contact Phoenix Electrical and get that fan up in no time. It may look simple but it does take expertise to get the ceiling fan wiring right. At Phoenix Electrical, we have the best ceiling fan installation experts who have been fixing ceiling fans day in and day out for years on end and have fixed hundreds of fans across many homes in Northwest Georgia. So, why settle for anything less than the best? Contact us now!
If you thought just about anyone will be able to install a residential ceiling fan, well, that is not so. There is a difference in how amateurs and experts do it. If you want to get a fan installed now, we are ready to do it right away. Our team of licensed and experienced electrical professionals will come loaded with all the tools and tackles needed to install the ceiling fan quickly and expertly.
Ceiling Fan Installation for Residences
Ceiling Fan Installations for Commercial Setups
Phoenix Electrical has many years of experience in installing ceiling fans for commercial setups. We understand that every commercial ceiling fan installation entails a different challenge because of varying needs and heights. With our unrivaled experience, we can complete your installation quickly and accurately and give the best results.
Do you love spending your spare time on the porch of your home? Make your relaxation time even more comfortable with a ceiling fan. Not sure how to do it? Phoenix Electrical can get it done regardless of the difficulty involved in putting up a ceiling fan outdoors. We have done it perfectly well for many homes – the smiles of our clients are proof of our expertise.
Ceiling Fan Installation for Outdoor Needs
Use a Ceiling Fan - It Has Many Benefits
A ceiling fan may appear as a simple and conventional piece of equipment. However, its importance is often undervalued.
There are many benefits of using a ceiling fan in your home or commercial establishment. Here's how ceiling fans make life easy for everyone:
It moves the air within the room around, removing air stagnation.
It boosts air quality.
It brings down the temperature of the room.
Modern ceiling fans enhance the appearance of your room.
Ceiling fans are proven energy conservers.
Installation of a ceiling fan is not easy. There is a good amount of wiring work involved and you must make sure you connecting the right wire to the relevant terminal. That's not as easy as it may seem, especially when you are working on a ladder or a platform a few meters up from terra firma. Also, modern ceiling fans come with various added features and accessories and, hence, they must be handled with loads of care.
Choosing a ceiling fan installation specialist is important to get the job done quickly, smoothly, and effectively. When it comes to ceiling fan installations, none can match the expertise of Phoenix Electrical. We are the first choice of residents and establishments in Calhoun, Georgia, and Northwest Georgia areas because we are dependable and professional, and we are fully committed to providing the best electrical services to our valued customers.
Choosing a Proficient Ceiling Fan Installation Service
What Makes Phoenix Unique
Phoenix Electrical is the preferred choice of homeowners and commercial establishments in NW Georgia for installing ceiling fans and allied works because we are the specialists in this arena.
Our team of technicians has handled hundreds of installations to date and never faulted in their task or commitment to delivering nothing but the best. We can install all types of ceiling fans, regardless of their make, style, or size – to your complete satisfaction.
You know the power of a ceiling fan only when it sets into smooth motion. A properly installed ceiling fan's blades work in a smooth and seamless movement, cutting the air silently to send out columns after endless columns of air to keep you energized and the room refreshed.
We know the right way of installing ceiling fans because we have been doing it for many years now. Our fan installation experts work with clockwork precision to get the job done quickly without causing any major disruption to your routine.
If you are a resident or business owner in Calhoun, Adairsville, Cartersville, or Dalton, and are looking for a fan installation service, call us. Our fully licensed electricians can ensure smooth and hassle-free installation at a time of your convenience.
You can call us on 706-607-6332 or fill an online form to get a free onsite or virtual estimate.
We Are the Best-Known Ceiling Fan Experts
Get your ceiling fan installed by the best-known name in the trade. Call Phoenix Electrical at 706-607-6332.
Phoenix Electrical installed an outdoor ceiling fan for me. Had to run new electrical. Did a superb job. Fan looks and works great. Was so thoughtful to my ideas and the electrician gave his input. He cleaned up after also. I enjoy my fan daily.
Great service! Phoenix Electrical was very responsive to my inquiries. They were on time and did a great job installing 2 outdoor ceiling fans for me. I will contact them again if I need any electrical work in the future.
They arrived on time. Completed project within timeframe. Expert knowledge. Extremely satisfied with Pro from initial contact to completion of project. Would highly recommend this Pro and will use again.
They did do an excellent job. He was on time and was very professional and friendly.
I got a very fast call from them and they arrived right on time and completed the work.
The technician was on time and he did excellent work!
The technician showed up at the job site when he said he would and completed the installation of three ceiling fans in less than three hours. In addition to installing the fans he told me about Phoenix Electrical and all the services they are am to provide. This company as well as their personnel is one of the best I have dealt with since moving to north Georgia.