Generator Installation Services
We serve both residential and commercial generator needs
Comprehensive generator installation solutions for standby, commercial, portable, and residential generators in NW Georgia
The Most Trusted Name in Generator Installation
Overcome power outages with the best-quality generators that guarantee stable performance. Don't battle darkness during power outages ever again. Let you lights shine with Phoenix Electrical generators.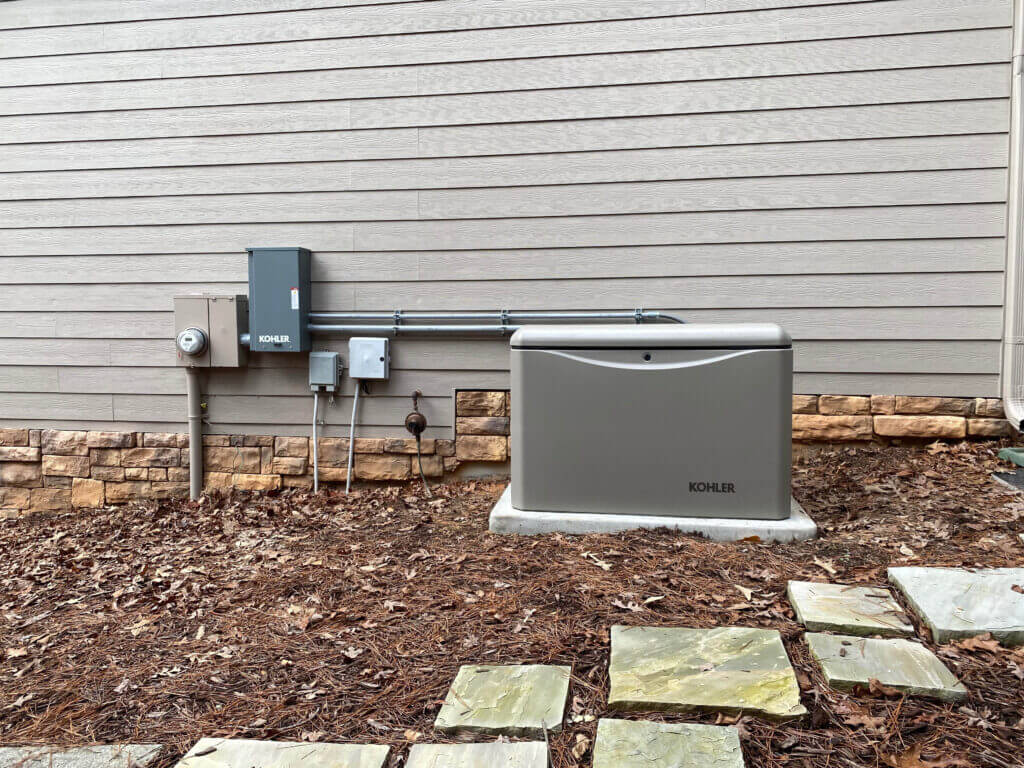 Find the Best Residency Standby Generators in Calhoun, GA
Don't let your home ever plunge into darkness. Install an emergency home generator, and put an end to the fear of unexpected power outages. Make a smart decision. Invest in top-quality residential generators from Phoenix Electrical.
Keep you and your family safe by ensuring an uninterrupted power supply even during frequent power outages. Standby generators can keep all your essential appliances up and running through a power outage and ensure that your family is not inconvenienced. They are designed to take over your home's power supply automatically when the main supply source fails and will switch off when the supply is restored. Install one right away. Call Phoenix Electrical today at 706-607-6332, and put your power supply issues firmly behind you.
When it comes to generator installation services in NW Georgia, there is only one name that customers trust. Phoenix Electrical makes sure that your investment in a home generator provides high value. We make that happen with our expertise in the proper installation by fully licensed and certified technicians. We also help you choose the right home generator based on the unique needs of your home and family.
Generator Installation? We Do It Best
Planning to install a new generator? Phoenix Electrical can help you make the best start by providing you with the information needed to make an informed choice. We answer all your questions and set to rest any doubts you may have about new generator installation.
Phoenix Electrical is a reputed name in generator installation and is a one-stop resource for everything you need to know about generators. We have some of the top technicians and engineers working for us. They are trained to serve our valued customers and help them get the best value for their investment in generators. Call us to get your generator installed, and we assure you there will be no more unexpected dark nights.
Portable generators are the in thing because of the sheer convenience and value they offer. You can pull them out and carry them to where you need them during an outage. You can use them in any place in your home or office if you want instant power at a moment's notice. Phoenix Electrical can help you choose the portable generator that best suits your needs for uninterrupted power. Our portable generators offer long-term reliability and can continue to deliver energy even in trying conditions. And most importantly, they work noiselessly. Call us now to get a portable generator installed right now or to get answers to any queries. We are ready to serve you at all times.
We Install Portable Generators Too
We specialize in the following electrical services in Northwest Georgia:
Generator Installation
Circuit Breakers
Lighting Installation
Electric Service Upgrades
Electrical Wiring
Code Updates
Electrical Installations
Outlet Replacements
Switches, Dimmers and Lighting Controls
Surge Protection
Take the first step and get an Generator Installed at your facility or home. Call us at (706) 607-6332 to schedule a free on-site estimate.
When we were having our 3400 sq ft home built. Phoenix Electrical did all the wiring and hung lights and fixtures. They did a fantastic job and even the inspector was impressed , when it was inspected. I will definitely obtain their services when needed.
Phoenix Electrical installed an outdoor ceiling fan for me. Had to run new electrical. Did a superb job. Fan looks and works great. Was so thoughtful to my ideas and the electrician gave his input. He cleaned up after also. I enjoy my fan daily.
Excellent work! We had most of our home completely rewired. Jerimiah was fast, clean and very detail oriented. Highly recommend using them.
Great service! Phoenix Electrical was very responsive to my inquiries. They were on time and did a great job installing 2 outdoor ceiling fans for me. I will contact them again if I need any electrical work in the future.
I was very pleased with the service that I received. The Phoenix Electrician was very knowledgeable about the job. Cleaned up after the job was completed. Would definitely recommend them to others.
We found this company on NextDoor and are glad we did. They took down six old 8-foot fluorescent shop lights (from a 12-foot ceiling) and replaced them with LED shop lights. They completed the job in a few hours and took all the debris with them. They were prompt, professional and well mannered. I highly recommend Phoenix Electrical for big or small jobs and will use them for any of our future electrical work. Thanks Cynthia and Jeremiah!!